What is the Recommended Tire Pressure for a Mazda?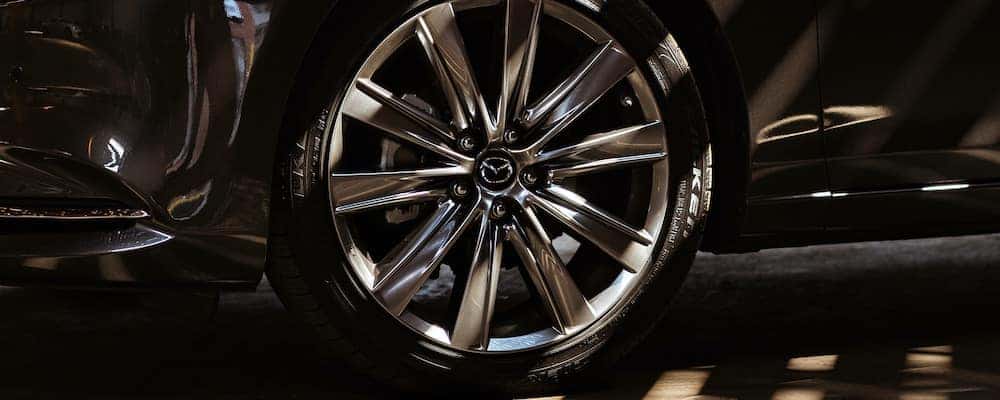 Whenever you take a drive around Hartford or Glastonbury, your tires are getting a workout. Because your tires are the only point of contact between your car and the ground, it's important to keep them in good shape — and that includes tire pressure. If you're not sure about the recommended tire pressure for your Mazda, we have a handy chart for Mazda tire pressure recommendations and a step-by-step guide on how to check your tire pressure.
Mazda Tire Pressure Guide By Model
| Mazda Vehicle | Average Recommended Tire Pressure |
| --- | --- |
| Mazda3 Tire Pressure | 36 psi |
| Mazda6 Tire Pressure | 36 psi for 17-inch/35 psi for 19-inch |
| Mazda CX-3 Tire Pressure | 36 psi for front/33 psi for rear |
| Mazda CX-30 Tire Pressure | 36 psi |
| Mazda CX-5 Tire Pressure | 34 psi for 17-inch/36 psi for 19-inch |
| Mazda CX-9 Tire Pressure | 36 psi for 18-inch/34 psi for 20-inch |
| Mazda MX-5 Miata Tire Pressure | 29 psi |
NOTE: PSI stands for "Pound-force per Square Inch." While average tire PSI is generally between 32 and 35, this can vary significantly depending on the make and model of your vehicle as well the brand and size of your tires. If you don't have an owner's manual or are otherwise unsure about what your tire pressure should be, ask an expert. Since driving on underinflated tires can lower your fuel economy significantly, there's a real monetary incentive to keeping tabs on it!
How Do I Check My Mazda Tire Pressure?
Remove valve cap from tire.
Gently press the pressure gauge over tire valve.
Carefully remove tire pressure gauge after receiving a reading.
If low, inflate air in tires to recommended tire pressure listed above and on the sidewalls of the tires.
If tire pressure is too high, squeeze the metal centerpiece of the tire valve to release air until the appropriate level is reached.
Place the cap back on the valve after tire inflation pressure is correct.
Repeat the process for each tire until each is at the same level.
IMPORTANT: Before checking your tire pressure, you want to make sure your tires have been cold. Make sure the car is off and has rested for at least three hours or hasn't been driven for over a mile if turned on recently. After your tires have cooled, you will be able to check the pressure of your tires accurately.
How to Reset the Mazda Tire Pressure Monitoring System
Since having to check your tire pressure all the time can become a hassle, you'll want to rely on Mazda's tire pressure monitoring system. But in order for the system to know what psi is considered normal, you will need to have the system reset after the tires are adjusted to the proper pressure.
Here's how to reset a Mazda Tire Pressure Monitoring System.
Park the car and let the tires cool. This should be done before adjusting the tire pressure.
Switch the ignition on but do not start the engine.
Locate the "SET" button to the left of the steering wheel, then press and hold. The tire pressure warning light in the instrument cluster should flash twice and beep once.
Now that you know what the recommended tire pressure for your Mazda is and how to reset the tire pressure monitoring system, your tires should be inflated to the proper level and your tire pressure warning system should be able to accurately alert you when they run too low. For questions or for help with this process, contact us or give us a call at (860) 645-4100.
Schedule Tire Pressure Service at Manchester Mazda
Properly inflated tires can increase your gas mileage and lead to a smoother ride, so it's very important to do so correctly! If you have any questions about how to check your tire pressure, checking tire tread depth, or if you would like us to inflate your tires, don't hesitate to come to Manchester Mazda. Our Mazda service team is happy to help you with any vehicle maintenance and keep your Mazda running smoothly!
More From Manchester Mazda
The Mazda CX-50 is a new advancement when it comes to SUVs. It's a bold new vehicle meant to slot in between the Mazda CX-5 and the Mazda CX-9. What does this vehicle offer Hartford drivers? For one, it gives you the 2023 Mazda CX-50, crafted to be a cut above the typical SUV experience….

You'll find the 2023 Mazda CX-50 coming to Hartford roads soon. What does this new entry in the SUV market have to offer? For one, it'll serve as a middle ground between the Mazda CX-5 and the Mazda CX-9. It's got plenty of bespoke style and flair that you've come to expect from Mazda, amplified…

A new model year means new reviews from automotive critics. If you're in the market for a new SUV in Hartford and are still undecided, we hope the 2022 Mazda CX-5 reviews show you a new level of automotive excitement. We've got reviews from several prominent automotive critics and we'd love to tell you all…