How to Change a Flat Tire: The Right Tools and the Right Method

How to change a flat tire – it's knowledge all drivers should have, and yet it's a skill frequently spurned. That's okay! Let's go ahead and learn about:
The Right Gear
The Right Method
The Right Gear
Firstly, have these items in your car:
Jack
Lug Wrench
Fully Inflated Spare Tire
Owner's Manual
Misplaced them? Never issued them in the first place? Pick up new ones, making sure the spare is regularly inflated to your manufacturer's recommended PSI.
You'll also want the following on-hand:
Flashlight
Rain Poncho
2″x6" Wood to Secure the Jack
Gloves
Wheel Wedges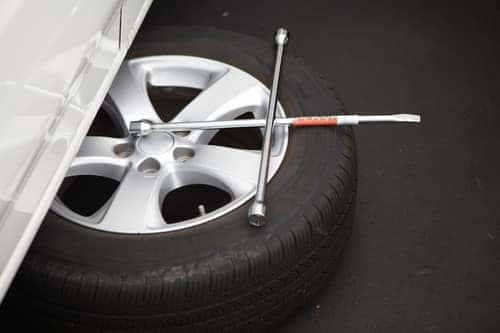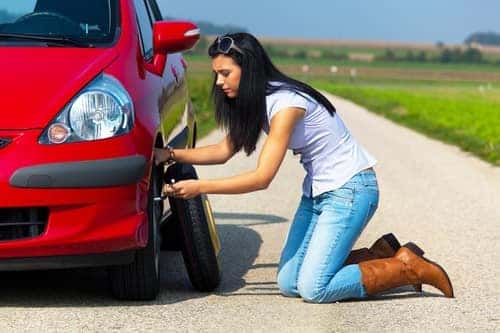 The Right Method
Okay, now onto the good stuff:
Bring your vehicle to a safe location. Slow down and pick out a level, straight stretch of road with a wide shoulder
Turn on your hazard lights before getting out.
Apply the parking brake, even on level ground, to prevent rolling.
Apply the wheel wedges. They go in front of the front tires when you're changing a rear tire or behind the rear tires when you're changing at the front.
Place the jack beneath the frame. Look for a section of exposed metal, and follow the instructions in your owner's manual.
Place a small cut of 2×6" wood beneath the jack to prevent it settling, then start to lift. Remember never to place any part of your body under the vehicle.
Unscrew the lug nuts – once loose, it's easy to unscrew them by hand.
Remove the flat by gripping the treads and pulling gently towards you. Set it on its side to prevent rolling.
Mount the spare on the lug nuts, then tighten them by hand until they are all on.
Lower the vehicle slightly and tighten the lug nuts with a wrench
Bring the vehicle to the ground
Replace the hubcap. It may not fit – if so, stow it with your flat.
Check the pressure of the spare to make sure it's safe to drive on.
Drive to a service center. Remember, spares are meant to be temporary and shouldn't be driven at high speeds.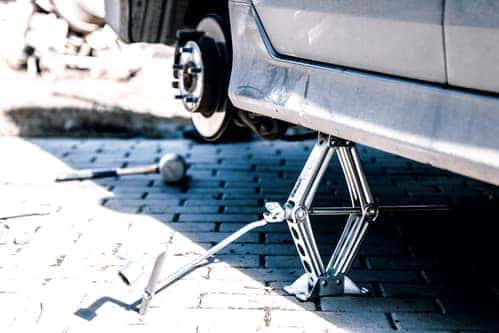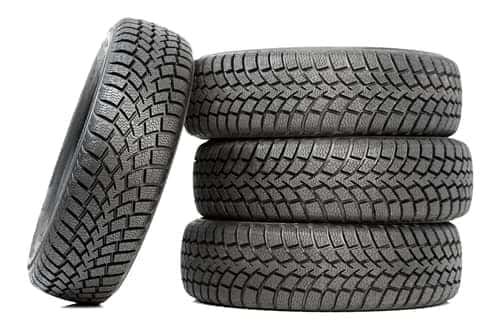 Need Any Further Advice? Simply Contact Manchester Mazda
Remember that our Manchester service department is always here to help. Learn more maintenance tips, and why you should choose our dealership for all your service needs. Don't hesitate to contact us today if you'd like to find out more, or simply visit our dealership in Manchester today!
Current Service Specials at Manchester Mazda
Recent News from Manchester Mazda
How to Clean Mazda Leather Car Seats No matter how hard you try to keep your Mazda's genuine leather seats clean, they're bound to take on some dirt at some point. This can be especially true during the summer vacation and road trip season when many families will be drinking and eating in their vehicles….

With seven unique and affordable Mazda CX-5 trims to choose from, our team at Manchester Mazda is ready to help you find the perfect one for your daily drives through Vernon. Take some time to browse Mazda CX-5 trim levels to see which is right for you! After all, it's a tough decision to make with…

Are you interested in a 2021 Mazda CX-30 but not sure what it costs? What is the Mazda CX-30 price? The Mazda CX-30 price varies depending on the trim you choose for your Manchester commute. Learn more about the 2021 Mazda CX-30 configurations, pricing, amenities, and more with this guide to the CX-30 by Manchester Mazda….